For Immediate Release: Wednesday, September 23, 2020
Montgomery County's Department of Transportation (MCDOT) will adjust Ride On bus service schedules starting Sunday, Sept. 27, to expand service in areas with growing demand and shift resources back toward schedule patterns in place prior to the COVID-19 health crisis. All Ride On-branded bus routes and Ride On extRa routes will be in service at an overall restoration of nearly 80 percent of pre-pandemic levels. The on-demand Flex service remains suspended.


While all Ride On routes are in operation, ridership capacity remains limited to support distancing between riders where possible.
Ride On planners have monitored ridership data and feedback from riders to identify routes that have demand levels requiring additional capacity, and the Sept. 27 schedule changes include more frequent buses on 26 routes. Extra buses continue to be stationed at all Metro stations in the County and are ready to deploy to any nearby service route that is experiencing levels of demand that cannot be met by buses under the standard schedule.
Service hours and bus frequency beginning Sept. 27 involve some increases in service frequency toward standard Ride On schedules and some reductions in service on routes that had been increased to provide specific support during the health crisis, such as hospital access. Highlights from the upcoming changes include:
Resuming Ride On Real Time web application fully for the first time since health crisis impacts began;
Increased service frequency on 26 routes based on recent ridership demand patterns;
Route 8 continuing operations on Sundays;
Routes 52, 53, and 63 returning to weekday service only;
Routes 23 and 83 no longer operating on Sundays; and
Routes 66 and 67 reducing service hours from all-day to peak periods only.
Riders are encouraged to visit the new schedule webpage for detailed information
montgomerycountymd.gov/dot-transit/routesandschedules/rideonroutes.html.


A notable difference from pre-COVID-19 service is that no bus routes will initiate service runs after midnight.


Operational changes implemented by MCDOT during the health emergency for riders boarding buses will remain in place. All passengers are required to wear a face covering to board and must continue wearing the covering for the entire time riding on a bus. All buses have a supply of face coverings for those who cannot provide their own.


Riders are asked to make best efforts to maintain maximum physical distance between themselves and other riders who are not from the same household. Passengers generally must board at the rear door of the bus but can board through the front door if a ramp is needed to accommodate a disability or stroller. Divider partitions are currently on order to facilitate front door entry and increased passenger capacity as soon as possible.


Ride On services remain free to all passengers—a temporary change made during the health crisis.
Bus interiors will continue to be cleaned by the County's Department of General Services twice daily with hospital-grade disinfectant. Bus filter and ventilation systems also are treated each night with a disinfectant.
For the most up-to-date service information, riders should follow @RideOnMCT on Twitter, @RideOnMCT on Facebook, YouTube and Instagram. In addition, information is available at www.rideonbus.com, by subscribing to receive email alerts or text MONTGOMERY RIDEON to 468311.
For other local transportation information, follow @MCDOTNow on Twitter, visit MCDOT's transportation resource page for COVID-19, subscribe to MCDOT news releases or subscribe to MCDOT's Go Montgomery! biweekly newsletter.

Put the "count" in Montgomery County! Be sure to complete the Census online, by phone, or by mail. It's safe, confidential, easy, and important. #2020Census #EveryoneCountsMCMD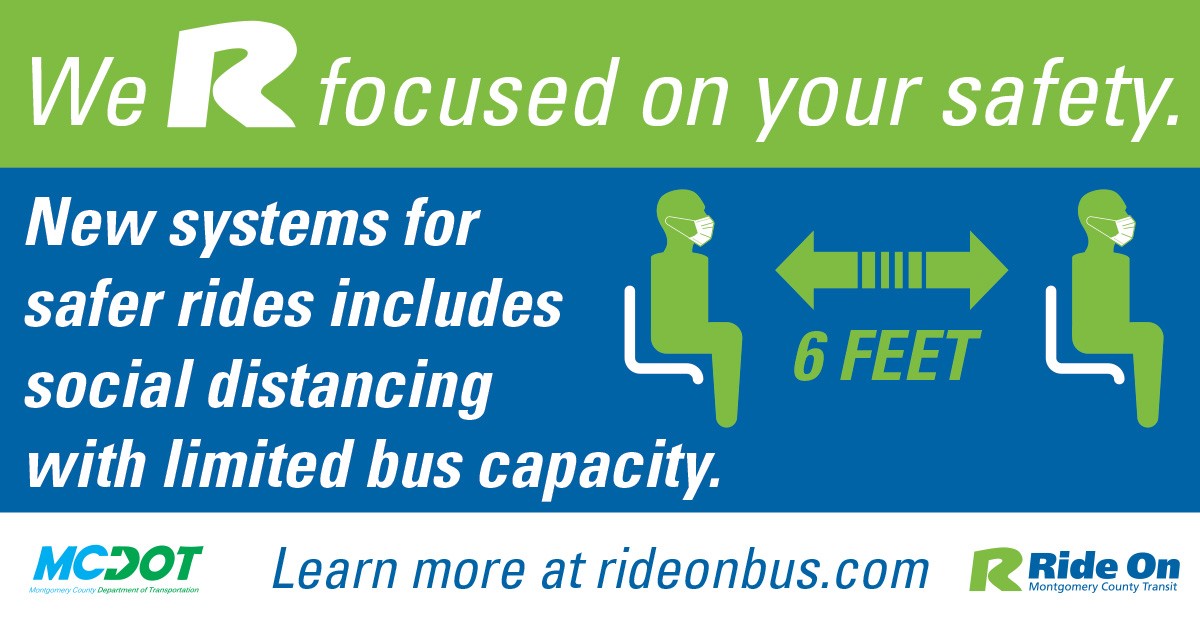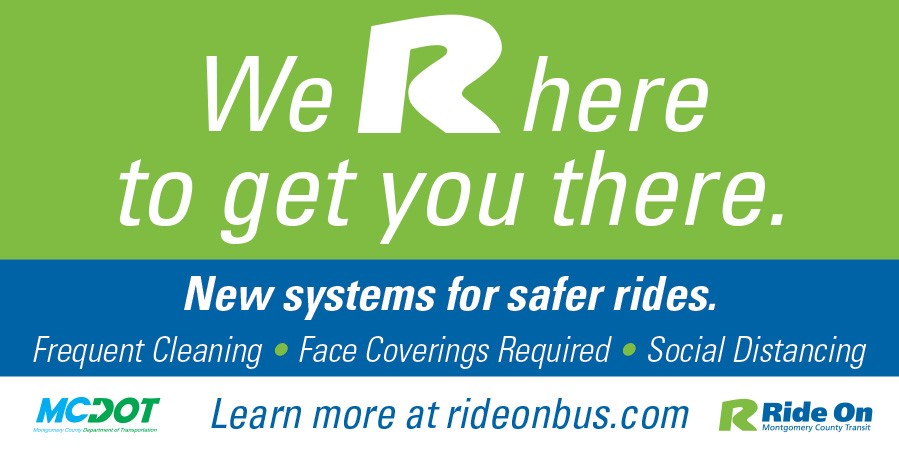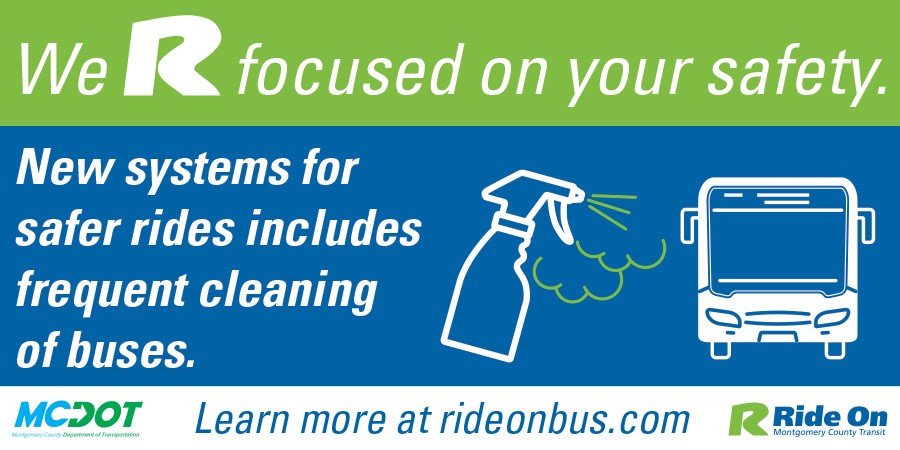 Release ID: 20-181
Media Contact: Hannah Henn 240-777-8389